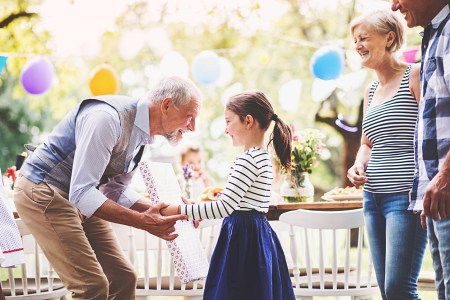 August 21 is Senior Citizens' Day, and there are several amazing ways to celebrate it with those you love. One idea would be to get your spouse and kids together to perform an oldies but goodies concert in your backyard for your parents and your spouse's parents. Bring out your phone and speakers and have the kids practice singing the lyrics of certain songs days before the concert starts. To make it more fun, all of you can dress up like the decade your parents grew up in while singing. Near the end of the concert, invite your parents on stage to sing and dance with the kids. Here are more fun ways to celebrate senior citizens' day.
Create A Scrapbook For Both Sets of Grandparents
Another idea would be to create a scrapbook for both sets of grandparents. The scrapbook might include their most memorable pictures, letters they wrote to you or the kids, recipe cards with their best recipes on them, petals from their favorite flowers, and scents from their favorite perfume or cologne sprayed throughout the pages. On the cover of the scrapbooks, the kids can paint funny pictures and write a heartfelt message to their grandparents.
Do YouTube Interviews With Them
We live in a different world than 50 or 60 years ago, and many of today's kids and teens don't know what life was like back then. Create some YouTube videos and invite your elderly neighbors to participate in a few interviews about how they grew up and how the eras they lived in shaped their beliefs about religion, relationships, money, and work. You would then take those interviews and create a channel that focuses on stories about how people lived in decades past.
Volunteer At Events For Senior Citizens
Local nonprofit organizations and certain government agencies sometimes hold events to assist seniors with signing up for certain services or obtaining health screenings. You can celebrate Senior Citizens' Day by volunteering your time at these events. This puts a smile on the attendees' faces, and this is an opportunity to get to know the seniors in your community.
Run Errands for Your Elderly Neighbors
If there are elderly neighbors whose family members live out of town, they're not always able to get out of the house to run errands. You can help them by offering to run errands for them on Senior Citizens' Day. The neighbors might ask you to go to places such as the supermarket, post office, drugstore, or other establishments. Another idea would be to order a delicious meal from a local restaurant and pick it up for your neighbor.
Bring Grandma To The Hairdresser
If you have a favorite beauty salon that you visit often, bring your grandma with you on Senior Citizens' Day. She can use her senior discount if the salon offers it, and the hairdresser can suggest certain hairstyles for her. After leaving the salon, you and your grandma can get a manicure or pedicure at a nail salon. Finally, you can end the day with an afternoon picnic at the park.
These ideas will put a smile on senior citizens' faces and they will remember these moments for years to come.
If you are burdened with high amounts of credit card debt and are struggling to make your payments, or you're just not seeing your balances go down, call Timberline Financial today for a free financial analysis.
Our team of highly skilled professionals will evaluate your current situation to see if you may qualify for one of our debt relief programs. You don't have to struggle with high-interest credit card debt any longer.
Call (855) 250-8329 or get in touch with us by sending a message through our website https://timberlinefinancial.com.