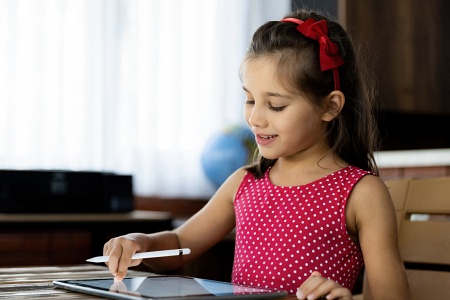 For youngsters who do not learn best through traditional formal instruction, educational games are a terrific option. A growing amount of research demonstrates that game-based learning systems can be extremely effective at motivating kids to study. Educational games can help to foster a passion for learning in your own child, regardless of how they feel about the subject itself. Below is a list of seven educational game sites to consider.
1. ABCYa.com
This is an excellent website for school-aged children that also includes a range of games for preschoolers and is very user-friendly. You can choose a grade level and then explore through the various types of games available. Different subjects include numeric reasoning, critical thinking, and verbal skills.  While the game is free to play, you can pay for an ad-free membership. This website can work on both computers and tablets.
2. FunBrain.com
While many education sites tend to cut off past the fifth grade, FunBrain offers a range of games that progress all the way through the eighth grade. Though there are advertisements, the games are all free to access. Each game is listed by subject, grade-level, and skill category. It has a great selection of games. However, smaller children may require assistance getting set up to avoid getting confused by the more detailed user-interface.
3. PBSkids.org
This site is easy to maneuver for all ages and contains many well-known characters from PBSkids shows. Not only does PBSkids.org offer academic games, but it also provides games geared toward teaching socioemotional skills. This is a terrific area to teach your young child about skills such as prosocial behavior, friendship, and sharing, as well as other "soft skills" that they will need throughout their lives.
4. Poptropica.com
This is a novel take on an instructional website that closely resembles traditional multiplayer gaming. Kids (or adults) design a character and then take him or her on journeys across the fictitious island realm, completing quests for rewards along the way. While the game is free to play, you can purchase a subscription to gain access to additional features.
5. Kids.NationalGeographic.com
National Geographic has a solid history of providing high-quality content on a variety of fascinating topics. This is a terrific way to learn about science, space, marine life, different cultures, and space. It is particularly well suited for elementary and middle schoolers.  The site also includes instructive and amusing films, pictures, and other resources for educational enrichment.
6. GameClassroom.com
Game Classroom offers a wide range of games that are based upon state-enforced curriculums for kindergarten to fifth grade.  One of the most useful aspects of this website is the ability to sort out games by subject area, such as mathematics, reading, and problem-solving. This makes it simple for teachers and parents to pick an activity that corresponds to the child's current educational needs. Some of the games have web pages where you may need to register to play.
7. Arcademics.com
Arcademics blends instructional topics with arcade-style games. By accurately responding to questions, you can advance your player and score prizes. Users can compete against other players, just like in genuine arcade games. Players can see where they rank on leaderboards. However, the site is more geared toward practicing existing skills rather than instructing students on new ones.
While all these sites include some enjoyable free games, it is worth noting that several of them demand fees for enhanced content and progress monitoring. In the event you decide to purchase any of these additional features, it is wise to explore them all first before making any payment(s).
If you are burdened with high amounts of credit card debt and are struggling to make your payments, or you're just not seeing your balances go down, call Timberline Financial today for a free financial analysis.
Our team of highly skilled professionals will evaluate your current situation to see if you may qualify for one of our debt relief programs. You don't have to struggle with high-interest credit card debt any longer.
Call (855) 250-8329 or get in touch with us by sending a message through our website https://timberlinefinancial.com.