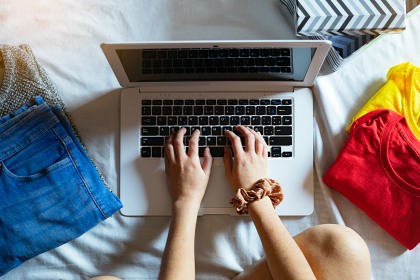 Selling the stuff you no longer need is an easy way to raise extra cash to cover upcoming bills or to add to your holiday savings account. The popular garage sale has become digitized, but many apps work globally too. Electronics and children's clothing move the fastest, but you're likely to find a buyer for whatever you want to sell. Most selling apps are set up to protect you from scam or unsavory characters, but you'll want to exercise caution anyway.
Here's our list of the top 7 apps that'll turn your unwanted stuff into fast cash.
1. Facebook Marketplace
Probably the easiest app for selling your stuff fast is Facebook Marketplace. Billions of people are on Facebook, giving you an almost limitless customer pool. You can easily verify if a potential buyer is legitimate and where they live. Once you upload your products to the Facebook Marketplace, all your friends are automatically notified.
2. Nextdoor
Nextdoor is all about selling locally. It's not specifically a selling app, but rather a digital community organizer. The app connects all kinds of available services within your neighborhood, including local businesses, upcoming events, and stuff for sale. You might want to try Nextdoor first since you'll be advertising locally, you're more likely to sell your items more quickly. You work out the final sale with the buyer and arrange for pickup or delivery.
3. eBay
eBay has a long history as an online retail site. Launched in 1995, eBay now boasts around 200 million active users. Unlike new apps, eBay has name recognition. It's one of the first sites consumers turn to when looking to buy something online. eBay does take a commission from your sales, so you'll want to keep this in mind when setting the price.
4. Letgo
Letgo is a mobile app with more than 100 million downloads, according to company officials. Letgo can move your stuff fast. As you photograph the item you're selling, it uploads instantly to the app. You must meet the buyer in person to complete the sale. Use caution. Get as much information as you can about the buyer and meet in a public place during the day.
5. Declutter
Declutter is a popular app for selling your electronics fast. It has both a website and mobile app, so you can upload and sell items straight from your cell phone if that's more convenient. Declutter gives you the price for your item instantly. You input the make, model, and condition of your tech device. If you're selling DVDs or games, you scan the barcode. Once the sale is complete, you ship your items to Declutter via UPS, and you receive payment the day after the items arrive at the Declutter warehouse.
6. VarageSale
Most of the time, employers are doing a credit check as part of due diligence. In case they are sued due in some part to your actions, they want it to be clear that they thoroughly looked into your past before hiring you. All employers are risk-averse, and they'd rather find out the information, and have you explain it, then find it out after there is a problem.
7. Poshmark
Poshmark is the place to sell those gorgeous clothes that you no longer like. After you create a profile, you set up a wardrobe. As you take photos of the clothing you want to sell with your smartphone, they upload instantly to your online wardrobe. Let the Poshmark online community know what you have for sale. Poshmark provides a pre-paid shipping label for you to ship your clothing after you close the deal.
Bottom Line
There are dozens of apps for selling your stuff fast. Many apps are local, which makes it much easier to deliver your items and get paid quickly. Some are free and others charge a commission. You can sell everything from shoes to bedroom furniture without leaving home.
If you are burdened with high amounts of credit card debt and are struggling to make your payments, or you're just not seeing your balances go down, call Timberline Financial today for a free financial analysis.
Our team of highly skilled professionals will evaluate your current situation to see if you may qualify for one of our debt relief programs. You don't have to struggle with high-interest credit card debt any longer.
Call (855) 250-8329 or get in touch with us by sending a message through our website https://timberlinefinancial.com.