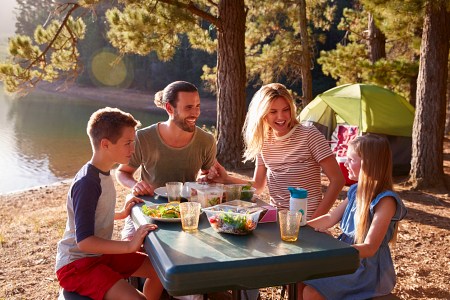 By definition, Labor Day is when we celebrate all the contributions made by workers who gave their all in the past and present. It's also the time of year when we're saying our goodbyes to the summer holidays and look forward to cooler temperatures as Autumn months are approaching. As the season of giving begins to arrive, many of us are seeking fun, affordable activities, and ideas on how to enjoy this day off without busting the budget.
Planning and Participating in Potlucks are Always a Popular Pastime
Often Labor Day is the last chance we have for grilling outdoors, enjoying backyard barbecues with friends and family before the weather turns south for the season. These types of cookouts and gatherings are a great way to embrace all the favorite recipes we've come to expect and imbibe over the years. Not only are potlucks more affordable than hosting events on their own, but they're also a great way to reunite and get everyone involved for some fun and festivities before the holiday season arrives.
Venturing Out to National Parks
No matter where you live in the United States, chances are there is a National Park worthy of visiting and enjoying that's not too far away from home and these destinations are almost always affordable. In addition, visit their Plan Your Visit page to learn more about discounts available before visiting one or more of these majestic locations. You'll find slashed prices on everything from camping to discounts available for seniors and members of the military.
Keeping it Close to Home With a Staycation
If you'd like to stay closer to home, save money on both gas and lodging when enjoying the concept of a staycation that's definitely worthy of consideration. There are plenty of affordable ways to have a blast on Labor Day without leaving the house or traveling too far from your domicile. For example:
Pack a picnic lunch and head out to a local park
Camp out in the backyard after a barbeque
Enjoy a movie night with some freshly made popcorn and/or other favorite snacks
Take a break from cooking with some takeout or a pizza delivery
Volunteering and Giving Back
The term labor is a relative word when it comes to performing regular work in exchange for a weekly, monthly, or annual paycheck. For a nice warm and fuzzy feeling, consider volunteering for a local charity or non-profit and give back to those who are less fortunate. While these organizations are always looking for monetary contributions, they're often seeking temporary or permanent people to fill in some gaps with ordinary and simple tasks.
If you're looking at ways to trim costs and cut corners when it comes to budgeting because of debt, please feel free to contact the hard-working professionals at Timberline Financial. There are plenty of options available for getting consumers off the credit card roller coaster or consolidate other outstanding bills. And finally, enjoy a day off when available and have a great Labor Day weekend.
If you are burdened with high amounts of credit card debt and are struggling to make your payments, or you're just not seeing your balances go down, call Timberline Financial today for a free financial analysis.
Our team of highly skilled professionals will evaluate your current situation to see if you may qualify for one of our debt relief programs. You don't have to struggle with high-interest credit card debt any longer.
Call (855) 250-8329 or get in touch with us by sending a message through our website https://timberlinefinancial.com.