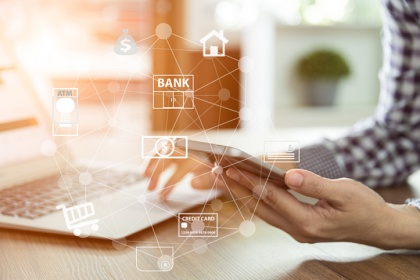 In this age of smartphones and internet-capable devices, there is an endless supply of apps and resources to help you manage your finances. With all these options, it might seem overwhelming. Luckily, we've pulled together a list some of the best ones out there. To see which ones we've loved, keep reading.
Dave
Dave is a free app, although it has an optional $1 monthly membership. Dave lets you track your recent transactions and, if qualified, allow you to get up to a $75 cash advance. The cash is automatically paid back to Dave when you receive your next direct deposit paycheck, so you don't have to worry about forgetting it. When getting an advance, you can choose whether to receive it for free within the next 3 business days or expedite it to your checking account for a $3.99 flat fee. Dave also has some other useful features, such as helping you find a side hustle for a little extra cash each month.
Brigit
Brigit functions similarly to Dave in that you can request cash advances. You can also see your bank's current balance, a forecast of your future bills, and track your spending. An optional $9.99 monthly membership offers access to even more features, such as instant delivery on the advances and flexible repayment. Apps like Dave and Brigit are perfect if you need quick, interest-free money in a pinch.
Chime
Chime is a mobile banking app that allows you to set up a free checking and savings account. Chime's accounts require no minimum balance and charge no monthly fees. If you set up direct deposit, you can get paid up to two days early, and if the deposit is at least $500 monthly, you can be eligible for SpotMe. SpotMe allows you to overdraw on debit card purchases (Chime also issues you a free debit card) by up to $100. If you don't have or want to use direct deposit, no problem- Chime allows you to load your checking account with money using other methods. Chime also will give you and a friend a cool fifty bucks for free if you use their friend referral program and you both sign up for direct deposit. Score!
Acorns
Acorns makes investing easy and accessible for even the most novice investor. It isn't free, but it isn't expensive, either – membership tiers start at just $1 a month, up to $5 for a family plan. Acorns will look at your information, ask you how much risk you're comfortable with, and then come up with a portfolio customized just for you. There's no minimum investment, and plenty of different options for investing. One of the most convenient is the round-up option, which allows you to round up your purchases to the next dollar and invest the change.
Credit Karma
Credit Karma is a free app that gives you have an in-depth look at your credit score. It will let you see what's impacting your score, any recent changes, and tell you where you could improve. Your different debts and accounts are all organized separately, such as student loans or credit cards. Best of all- using Credit Karma to view your score in no way affects it negatively!
NerdWallet
This app truly does it all. You can track your net worth including your cash, properties, and investments. Your cash flow is easy to monitor by adding your monthly income, bills, and subscriptions. You can track your credit score for free- without impacting it. You can add your credit cards, earn cash back on everyday purchases, and get free personalized advice on your finances with NerdWallet. There's hardly anything that NerdWallet can't help you with.
If you are burdened with high amounts of credit card debt and are struggling to make your payments, or you're just not seeing your balances go down, call Timberline Financial today for a free financial analysis.
Our team of highly skilled professionals will evaluate your current situation to see if you may qualify for one of our debt relief programs. You don't have to struggle with high-interest credit card debt any longer.
Call (855) 250-8329 or get in touch with us by sending a message through our website https://timberlinefinancial.com.