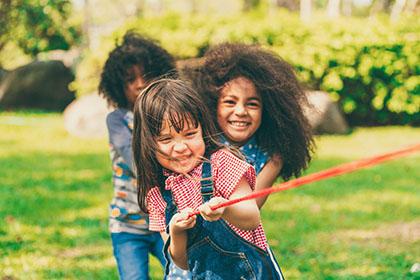 Having little ones around every day in the summer can be challenging, but it doesn't have to be boring or expensive. Keeping their mind and bodies active is important, and we understand that the more you entertain, the costlier things become. We rounded up seven inexpensive ways to not only keep your kids entertained but continue learning this summer.
Go Camping
Whether you choose to take a road trip to a campground or post up in your backyard, there is something exhilarating about sleeping outdoors. Create a tasty S'mores bar and let the kids choose their toppings. Make up your own campfire story or find one here and take turns sharing over a bonfire. Don't forget, stargazing is a must while sleeping outside and a fun way to educate them on constellations!
Start a Garden
Show your children the benefits of responsibility by planting their own garden this summer. Watch them water and care for the flowers, herbs, or vegetables, and observe the results. They will love becoming their own little version of a botanist and have a rewarding result when all is done. If you don't have the space outside, bring your herbs inside with this starter kit.
Go on a Scavenger Hunt
Create a fun and intricate map that takes them around the neighborhood as they search for fun treasures. Each stop will involve a fun riddle or clue that takes them to the next. If you'd rather keep it in your backyard, include some obstacle courses which will allow for some exercise (and a good night's sleep)!
Give Back
Teach your children the value of giving back and appreciation. This charity takes used stuffed animals and donates them to children who have been in traumatic situations. Have them go through their old toys and donate their unused stuffed animals as well as other things to take to the local Salvation Army. You could also go to your local animal shelter and ask if they need assistance in walking dogs.
Write a Letter
Brush up on their English and writing skills by writing a letter to a friend they haven't seen in a while or perhaps a relative. Incorporate giving back and have them write to the elderly in nursing homes. Another fun idea would be to have them write a letter to themselves in the future, whether it's one or five years away. Just remember to dig them out of storage when the time comes.
Arts and Crafts
Summertime is meant for a little messiness so take the crafts outside and don't be afraid to get a little dirty. These chalk bombs are a hit with children and so is this bubble snake idea. At the end of the day, turn on your sprinklers and wash away the mess.
Make a Movie
This would be a great idea if the weather isn't cooperating. Have the kids sit around and come up with a storyline and script for a short film. Assign each one a role and responsibility in completing the story from start to finish. Perhaps patience is lacking-- have them improvise a dance or skit and record their very own talent show!
There is an abundance of activities to keep the kiddos entertained this summer for little to no cost-- you just have to use your imagination!
If you are burdened with high amounts of credit card debt and are struggling to make your payments, or you're just not seeing your balances go down, call Timberline Financial today for a free financial analysis.
Our team of highly skilled professionals will evaluate your current situation to see if you may qualify for one of our debt relief programs. You don't have to struggle with high-interest credit card debt any longer.
Call (855) 250-8329 or get in touch with us by sending a message through our website https://timberlinefinancial.com.