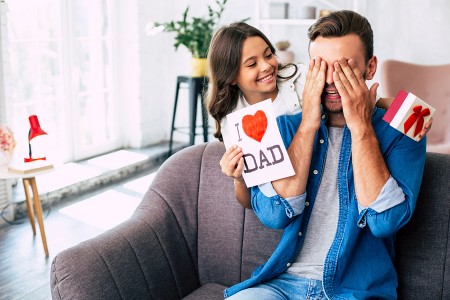 There's an old saying that goes something like this: "While almost anyone can be a father, it takes someone extraordinary to be a Dad. Therefore, the annual celebration of Father's Day salutes all the parents out there that go that extra mile, above and beyond year-round for the sake of their children. During this day dedicated to Dads everywhere, kids, family, and friends don't need to break the bank to appreciate this parent that is near and dear to our hearts. In this light, here are five affordable, more meaningful, and handmade Father's Day gift ideas to connect with your Pop.
1. Modern Greetings Using Today's Technology
Handmade paper cards have always been a popular go-to choice as a handcrafted option for a holiday gift. However, thanks to today's technology, we can take this concept one step further and to the next level. As many parents are already aware, many children tackle modern tech faster and more efficiently than older folks. In this light, little kids, older children, and adults are taking on the internet to make moving and uplifting videos using a plethora of free platforms and apps available on the internet to users at no charge.
2. Gift Cards Don't Require Cash
Another way we can show a beloved parent we care about them is by giving them a gift card. However, we don't need to actually purchase one from a brick-and-mortar store or another venue for them to have value. Most of us have already heard about the concept of handmade gift certificates that offer services with our time rather than a dollar amount. Some examples include (but aren't limited to) hand-written notes that are good in exchange for activities like:
The preparation of home-cooked family favorite meals of their choice
Offers to babysit for those who have other kids in tow, so they can enjoy a date night or other outing
Performing chores like yard work, cleaning, organization, etc.
Spending quality together time with a movie or game night experience
3. Sharing on Social Media is Still Touching
Even though some parents might struggle with today's tech, still a growing number of older adults are still participating on popular social media platforms, especially on Facebook according to recent statistics. Think of it this way, every year my Grandmother sent me a greeting card with a crisp $1 bill inside until I was eighteen years old. By the time I got to be a teenager, it used to make me giggle that I got an entire dollar to spend all on myself. It was still touching that she took the time to send me this thoughtful gift and the same is true for posts on today's social media networks.
4. Hooking Up With Pop With a Hobby
Do you and your dear old Dad already enjoy a hobby together like collecting model trains or miniature cars? What about building models or playing with construction blocks like the popular Lego brand? Even if you already don't have a passion in place when spending time with your Pop, it's never too late to start a new tradition. Think about a similar subject you share with your father, and perhaps you could start a new connective interest with them as a way of bonding with them today and in the future.
5. When Money is no Object
This is a great gift idea regardless of the holiday when entertaining the notion, what if money was no object? What if you could give someone close to you a truly special present devoid of a price tag? In other words, let's just say for the sake of argument, your Dad retired from the navy and really likes ships, and sailing. Do a little online research on sites like eBay and look for an amazing boat you'd buy for your father, print a picture (or capture a link), and share it with them with a caption like, "Dear Dad: If I had all the money in the world, I'd buy this for you in a heartbeat ... Happy Father's Day!"
If you are burdened with high amounts of credit card debt and are struggling to make your payments, or you're just not seeing your balances go down, call Timberline Financial today for a free financial analysis.
Our team of highly skilled professionals will evaluate your current situation to see if you may qualify for one of our debt relief programs. You don't have to struggle with high-interest credit card debt any longer.
Call (855) 250-8329 or get in touch with us by sending a message through our website https://timberlinefinancial.com.