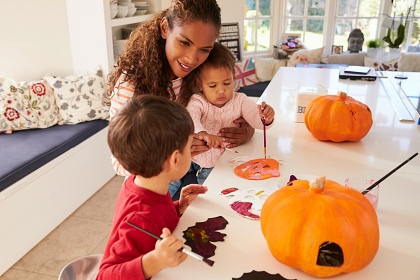 Every child's favorite holiday is coming up, but 2020 has been, a mess and Halloween is no exception. The CDC took trick or treating off the table, everyone is pinching pennies, and this Halloween is going to be different, but that doesn't mean it can't be fun. Get the whole family involved in these do-it-yourself Halloween decorations that are fun to make and will put everyone in the spooky spirit without breaking the bank. You can grab all the supplies from the dollar store for under $20, no tricks here, and no witchcraft required.
You Will Need:
Halloween colored yarn (you'll need more black yarn than anything else)
Pipe Cleaners
Crayons
Craft paper
Clothespins
Candles
Flour
Salt
Tape
Glue
Cardboard (3 in. wide)
Scissors
Pumpkin Pom Poms
These cute hanging pumpkin pom-poms take a second to get the hang of, but once you get in the groove they're a breeze to make, and they look so festive. You'll just wrap your yarn around your cardboard about 100 times, tie it off in the middle of the yarn ball, and trim it up to make it fluffy. The stems are also the hooks, and you can easily make those out of green pipe cleaner.
Ghost Banner
You can make a similar Halloween banner to the ones that go for $10 in stores with some craft paper and glue sticks. Everyone cuts out their own ghosts and spooky figures, and you can pin them to some yarn with your clothespins to hang wherever you'd like.
Bat Cutouts
These are a personal favorite and are probably the easiest to make. They sell for 10 dollars, but you can make them for a dollar and a little bit of effort.  Print out this bat stencil, grab some craft paper from the dollar store, and go to town! You can fill any undecorated spaces by taping up these little bats.
Bloody Candles
Melt a red crayon (with mom's help) on the edges of your white candles, and voilà! You have bloody candles that most Halloween stores charge 6 dollars a pop for.
Ghost Candle Covers
These little ghosts are anything but scary, they're adorable, making them is a breeze, and they look fantastic. You can make oven bake clay with salt, flour and water using this recipe, and follow this tutorial to shape them into ghost tealight covers.
DIY Spider Web
If you have any black yarn left over, you can make spider webs in the corners of your house with just a bit of tape! This is a fun 5-minute craft to do with leftover supplies, and you can even add a paper spider to your yarn web. This craft is a great way to fill empty corners and walls.
Whatever you wind up doing for Halloween this year, your kids will love it. Fill the house with Halloween spirit (no pun intended) without spending your savings in the seasonal section. 2020 is a year of new traditions, maybe your kids will make pumpkin pom-poms with your grandkids someday. 
If you are burdened with high amounts of credit card debt and are struggling to make your payments, or you're just not seeing your balances go down, call Timberline Financial today for a free financial analysis.
Our team of highly skilled professionals will evaluate your current situation to see if you may qualify for one of our debt relief programs. You don't have to struggle with high-interest credit card debt any longer.
Call (855) 250-8329 or get in touch with us by sending a message through our website https://timberlinefinancial.com.