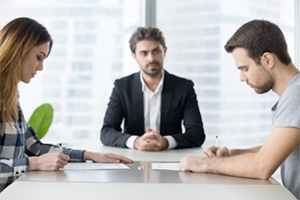 Divorce is understandably emotional and difficult. However, couples often make purely emotional decisions that can not only make things harder, but much more expensive. Here are some of the best ways to save money and emotional energy.
Deal With Your Emotions Properly
Ending a marriage brings up many feelings, but handling it appropriately is key to making it out the other side with your finances and mental health intact. Seeing a therapist is helpful and keeps you from bringing relationship conflicts to your attorney for $500 an hour. Therapy helps with issues that could drag out the divorce like wanting to win or letting go of joint property.
Explore Your Options
When discussing divorce it's important to think through your options. If you can work things out in counseling and avoid the process altogether, it's worth a shot. If a split is the right move, do your best to make it amicable. Rather than rushing to court, try mediation to work through disputes. Also, if there aren't any asset or custody issues, you may be able to avoid most legal fees by filing on your own and having an attorney check your work.
Be Realistic
If you have to go through the typical divorce process, do it with the right mindset. If you go into it thinking you're going to take everything they have or get everything you want, you'll waste a lot of money just to fail. Get a realistic idea of what you hope to accomplish and if something is up for debate, consider how much you want it and if there's something you want more that you could give it up for.
Stay Organized
Legal fees are hourly and one mistake can cost you weeks so have everything in order. Keep financial records organized so your lawyer doesn't need to make sense of them. Have accurate lists of personal and marital assets. Also, get anything else your legal team needs ASAP to avoid costly delays.
Understand The Cost
Talk to your lawyer in depth about rates. Lawyers can charge for everything differently and there may be fees you haven't thought of. Know the cost for their time, paralegals' fees, and anything else. Know exactly what you should be paying and check every bill right away to make sure it's what you expected.
Limit Unnecessary Fees
Many legal fees can be avoided or lowered. Ask to work with an associate so you don't pay partner's rates and use paralegals or assistants when possible. Work out the division of property on your own so you don't pay lawyers to argue over the credenza.
When you do need your lawyer, try to use concise emails and have an outline for any meetings to stay on track. It's important to ensure your lawyer is someone you easily communicate with and feel comfortable being open with. Clear, honest communication can streamline the process.
Remember...
This is going to be hard, you're ending a marriage after all. The important thing to remember is that going into this with a healthy and rational attitude can be an invaluable decision. This isn't about making them pay or being right, it's about dissolving the relationship with as much of your hearts and finances intact as possible.
If you are burdened with high amounts of credit card debt and are struggling to make your payments, or you're just not seeing your balances go down, call Timberline Financial today for a free financial analysis.
Our team of highly skilled professionals will evaluate your current situation to see if you may qualify for one of our debt relief programs. You don't have to struggle with high-interest credit card debt any longer.
Call (855) 250-8329 or get in touch with us by sending a message through our website https://timberlinefinancial.com.