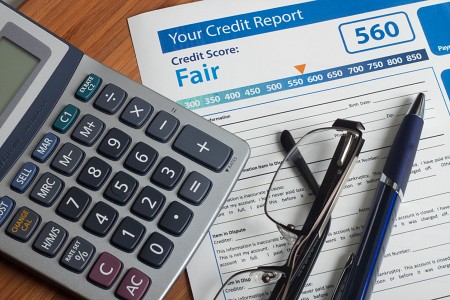 In a previous blog article, we wrote about the importance of developing a habit of reviewing your credit report. According to the Consumer Financial Protection Bureau (CFPB), more than half of the consumer complaints the agency receives are related to their credit reports. The top issue for consumers is errors. A good credit score and a positive history of handling credit will save you money. More importantly, routinely reviewing your credit report will help you fix harmful or fraudulent activity before they become a problem. How do you clean up your credit report when you find errors or evidence of fraud?
Follow these six simple steps to clean up your credit report.
1. Order a copy of your credit report from each of the three credit reporting agencies.
The CFPB finds that the most frequent errors on credit reports are:
unpaid balances on loans or credit cards that have been paid
duplicate listings of loans and other debt
accounts marked as in collection when they are not.
Once you have pulled your credit report, thoroughly check all the information, especially the status of any loans, credit balances, and payment history. Also, ensure your personal information is correct, such as name, address, date of birth, and other personal details. This information doesn't impact your credit score, but errors might indicate identity theft.
2. Immediately challenge all errors.
If you find inaccurate information on your credit report or evidence of identity theft, report this to the agencies right away. The law compels them to respond and remove all erroneous information immediately. Be clear about the item you are disputing and provide supporting documentation to back up your challenge. Put everything into a letter and send it by certified mail. Be sure to keep copies for your records.
3. Notify your creditors.
If your dispute is approved, the credit bureaus are obligated to notify all financial institutions and creditors who may have reviewed your credit history. But it helps for you to do some follow-up. Push the credit agencies to quickly send an updated credit report to any financial institution that may have pulled your history within the prior year.
4. Check your credit utilization ratio.
The amount of credit you have used related to the amount authorized is your credit utilization ratio. This makes up 30% of your credit score. A simple way to clean up your credit report is to bring down your credit utilization ratio. Focus on paying off your credit card balances and limiting your use of credit cards. A balance transfer card can help you with this, but only if you can pay it off before the interest-free period ends.
5. Do you have accounts in collections?
If you have fallen behind on bills, the creditor might have sent your account to collections, and you could be unaware. This is typically the case with medical bills. If you find accounts marked as in collections, double-check to be sure the information is accurate. If you are current with all your bills, then you need to dispute this information. If you find that you do have accounts in collection, contact the creditor right away. Try to work out an arrangement that will remove the negative mark from your credit report.
6. Past-Due Accounts
Your payment history makes up 35% of your credit score. It is one of the most important factors affecting your credit applications. Once you have taken steps to clean up your credit report from errors, focus on reversing any habit of making late payments.
Bottom Line
Your credit score impacts every facet of your life. The quickest way to improve your financial health is to clean up your credit report. Begin by getting into the habit of reviewing your credit history at least three times a year. Take immediate action to correct errors and be proactive with credit reporting agencies to ensure that your updated report is shared with relevant creditors.
If you are burdened with high amounts of credit card debt and are struggling to make your payments, or you're just not seeing your balances go down, call Timberline Financial today for a free financial analysis.
Our team of highly skilled professionals will evaluate your current situation to see if you may qualify for one of our debt relief programs. You don't have to struggle with high-interest credit card debt any longer.
Call (855) 250-8329 or get in touch with us by sending a message through our website https://timberlinefinancial.com.