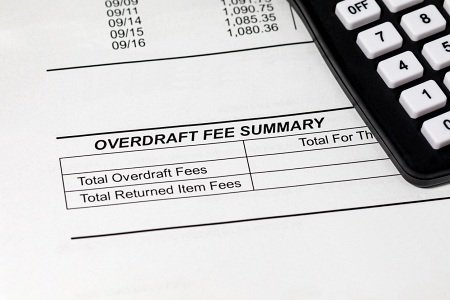 Have you ever wondered how banks make their money? There are monthly service fees, ATM withdrawal surcharges, and foreign transaction fees just to name a few ways. And even if you don't have to pay a fee when you deposit or withdraw money from your bank account, you do if you overdraft.
What Are Overdraft Fees?
Overdraft fees are a courtesy extended to you by your financial institution when you don't have enough money in your account to cover the cost of your purchase or allow you to withdraw money from the ATM when you don't actually have the funds in your account.
Most banks require the money to be paid back within 30 days, or you run the risk of having your account completely closed by the bank or the bank will take the money from your account on the first deposit made to the account until the overdraft amount including fee is paid back.
Overdraft fees are not part of any package that comes with your account, overdraft fees are an optional service that you can opt in to.
Ways You Can Avoid Overdraft Fees
Remember, overdraft fees can be costly, and they can cascade out of control. Let's delve into some ways that you can stop losing money on overdraft fees.
1. For Your Accounts Resurrection — Opt Out of Overdraft Protection
Opt out of overdraft protection either online or by calling your financial institution and requesting to opt out of overdraft protection. You will need to be more mindful of your available funds when shopping once you have opted out because you will no longer receive that perk and your debit card will be declined at the register.
2. Get Better at Managing and Monitoring Your Account
Prior to going shopping — online or in store — be sure to check your available balance. You don't want to get to the register just to be greeted with "Declined", how embarrassing would that be? So again, be sure to double-check your account. There are a great many mobile apps available to help you manage your money from anywhere.
3. Set Up Alerts on Your Account
Setting up alerts on your account is a great way to manage your account, you will receive an email or text message alert whenever there is activity on your account. Whether it's a deposit, withdrawal, low balance, etc., you'll know immediately, making managing your account easier.
4. Control Bill Day — When You Set Up Auto Pay
When you set up auto-pay for your recurring billing, you can control which day of the month you will make those recurring payments. Adding reminders to your calendar will help you remember when those bills are paid.
5. Go with Direct Deposit — for Your Paycheck
Having direct deposit will ensure that your funds are available when you need them to be. No more having to go to the bank to cash your paper paycheck.
6. Put Some Away for A Rainy Day
Savings will serve two purposes: one, you earn interest on savings and two, you'll have money for an emergency if one happens to arise.
7. Don't Pay with Debit Cards for Gas, Hotels or Car Rentals
If possible, pay for car rentals, your gas and your hotel in cash as opposed to paying with your debit card. Many of these services will place a hold on your card for a certain amount to cover unexpected fees and will refund the difference within a few days.
However, those couple of days can result in a declined transaction or an overdraft to your account (if you have not opted out yet). Instead, pay with a credit card if you have one, or you can pay with cash or even a prepaid card.
8. Do Some Research to Find a Bank with No Overdraft Fee
Online banking has made financial institutions an even more competitive market and few online-only banks are said to offer no-fee accounts in an attempt to attract more customers.
If you are burdened with high amounts of credit card debt and are struggling to make your payments, or you're just not seeing your balances go down, call Timberline Financial today for a free financial analysis.
Our team of highly skilled professionals will evaluate your current situation to see if you may qualify for one of our debt relief programs. You don't have to struggle with high-interest credit card debt any longer.
Call (855) 250-8329 or get in touch with us by sending a message through our website https://timberlinefinancial.com.