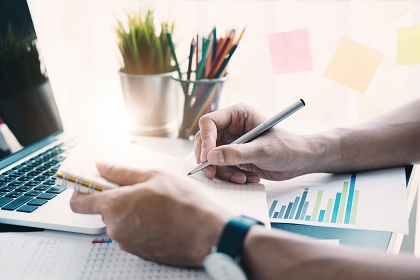 2020 has brought unprecedented challenges to our financial lives. How should you approach your annual fall financial clean up this year? As the economic uncertainty lingers, the best way to move forward is to hold steady with proven strategies that help you build a healthy financial life. The reality of the COVID-19 pandemic plays a part, but healthy financial habits remain the same.
1. Organize and Discard
Organize all your financial documents such as,
Insurance documents
Investment statements
Receipts
Credit card statements
Tax paperwork
Personal loans and other documents related to liabilities.
Discard whatever is no longer needed. A pile of unnecessary financial papers only slows you down when you need to access important information.
2. How is Your Emergency Savings?
You may have needed to tap into your emergency savings account this year. If so, now is an excellent time to check the balance. Do you have enough to get you through three months of living expenses? If not, how can you shift more money to your emergency savings account?
If you didn't open an emergency savings account yet, try to start now. While there are targets for how much you should save, the most important thing is to save whatever you can.
Review Your Budget and Financial Goals
Use this last quarter to evaluate your 2020 budget performance. You'll have more realistic facts with which to draft your 2021 budget.
Has your income changed? Is this permanent?
How has any change in income impacted your budget?
Can you increase your income? Reduce expenses?
Did you meet your savings targets?
Were you able to reduce credit card debt and other liabilities?
What do you need to do in the year ahead to meet your financial goals?
4. Max Out Your Retirement Contributions
Are you on track with your retirement accounts? Use these final three months to max out your 401(k) or IRA accounts.
5. Tax Preparation
Saving money on your taxes gives you more money to put in your emergency savings account or toward other financial goals.
Check your taxes now to be sure that you're not giving a free loan to the government. Make whatever adjustments are necessary. Use the withholding calculator on the IRS website. Check with your accountant to clarify all the deductions and credits you might be eligible to receive and take advantage of them now.
6. Analyze Your Health Insurance Policy
If you experienced health issues this year, did your insurance policy cover your expenses? Are the deductibles too high? Analyze your healthcare spending. Can you do better with a different policy?
Fall is an opportune time to shop around for alternative insurance policies. Confirm with your employer about enrollment periods. Getting a better healthcare plan could save you money.
If you have a Flex Spending Account, be sure to use it before the year is over. Make those appointments you put off or didn't have the time for.
7. Winterize Your Car
If you own your car, now is an excellent time to ensure all the systems are working correctly. If you haven't had it serviced lately, use this time to take it to your mechanic. Be sure the tires are in good shape and fully inflated. Do everything now so that you don't have to dip into your emergency savings to buy a new car or pay for expensive repairs.
8. Review Your Credit Report
If you haven't checked your credit report this year, make it a part of your Fall financial cleanup. Your credit score impacts everything. You want to be sure there are no errors or suspicious activity.
This year, during a global pandemic, there has been increased digital fraud, identity theft, hacks, and other cyber-criminal activity that could impact your credit score. If you have children, be sure to check their credit reports too.
If you are burdened with high amounts of credit card debt and are struggling to make your payments, or you're just not seeing your balances go down, call Timberline Financial today for a free financial analysis.
Our team of highly skilled professionals will evaluate your current situation to see if you may qualify for one of our debt relief programs. You don't have to struggle with high-interest credit card debt any longer.
Call (855) 250-8329 or get in touch with us by sending a message through our website https://timberlinefinancial.com.