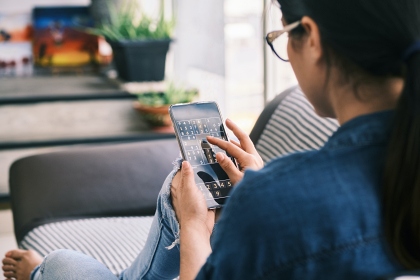 Modern day living is often characterized by insurmountable pressure at home, work, or school. Too much pressure often leads to stress, which can have adverse effects on your wellbeing. The good news is there are numerous wonderful brain training apps to use on your phone and achieve a sharp stress-free mind. Additionally, the apps come with other added benefits: they boost confidence, improve problem-solving, and help increase your attention span.
Here are a few top-notch apps to help you balance your mental health:
Lumosity
This app comes with games that help improve your memory, attention span, problem-solving capabilities, and critical thinking. It features three games in each session, which changes every so often to challenge your brain. The fun part comes as you try to complete the game while racing against the clock. Lumosity is available on iOS and Android.
Clockwork Brain Training
This app is designed to help enhance your memory, reasoning, attention, language, and dexterity. It features 17 amusing but challenging quick puzzle games that get progressively challenging as you move along. If you train regularly, you can amass enough tokens to unlock unique Game Modes and Upgrades. The app comes with detailed weekly and monthly graphs for tracking progress. This app is available on Android.
Peak
Peak is one of the slickest brain training apps ideal for boosting attention, memory, language, and mental agility. It features 30 games to play in total with enough variety to prevent it from being monotonous. Peak works on iOS and Android devices.
Elevate
Elevate features clear visuals and simple mini games to test your wits against the App Test Memory. It enhances your math, focus, comprehension, attention, and other mental skills. With this app, you can log in regularly to track your streaks using its calendar. As you become more skilled, you should try the more challenging levels. Elevate is both iOS and Android app.
Brainwell Mind-Brain Training
This app challenges you to improve your language, memory, attention, visual, and problem-solving skills with a daily workout that features 3 personalized games. You can play one game a day from a pool of 50 games developed by neuropsychologists, neuroscientists, and game designer experts. You will also access performance tracking that measures progress using tests and quizzes. You can use the app on iOS and Android devices.
King of Math
King of Math is an ideal app to improve your problem-solving skills. The app can help you with addition and subtraction skills using a fast-paced but fun math game. King of Math is available on both iOS and Android.
Curiosity
Curiosity uses original articles and videos to make you smarter. The app nudges you to provide answers to some of life's most profound mysteries, puzzles, and quizzes. Once you have answers, you can share them with friends over social media. Curiosity is available on both iOS and Android.
Vocabulary Builder from Magoosh
This app will undoubtedly help you improve your vocabulary so that you sound smarter. It was developed by online test prep company Magoosh. The app will help you learn 1200 critical words with their meanings and examples in sentences. Vocabulary Builder is available on both iOS and Android.
Key Takeaway
It is never too late or early to train your brain and improve your intelligence and cognitive abilities. If you genuinely want to become smarter, it is going to take some time and hard work. Luckily with the apps featured on this piece, you are sure to benefit from improved cognitive skills that help you deal with financial stress.
If you are burdened with high amounts of credit card debt and are struggling to make your payments, or you're just not seeing your balances go down, call Timberline Financial today for a free financial analysis.
Our team of highly skilled professionals will evaluate your current situation to see if you may qualify for one of our debt relief programs. You don't have to struggle with high-interest credit card debt any longer.
Call (855) 250-8329 or get in touch with us by sending a message through our website https://timberlinefinancial.com.