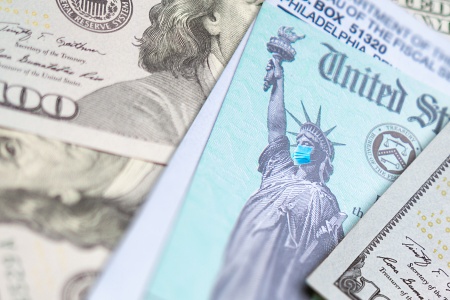 This year, many Americans received a stimulus check and there will be quite a few parents who will receive extra money for their children thanks to the provisions from the Child Tax Credit.  One thing you shouldn't do is spend the bulk of the money on frivolous things. Instead, you should develop a solid plan that will sustain you and your family financially long term.  For example, if your goal is to get out of debt or to increase your investments for retirement, you can use your stimulus check to begin these goals. Here are more smart ways to spend your child tax credit and stimulus check.
Open Investment Accounts.
Having a savings account is important, but it is even smarter to start investing as soon as possible. Start by opening an investment account for yourself using an online brokerage account from companies such as Vanguard, Fidelity, and TD Ameritrade. Then learn more about investing by reading good books, blogs, and journals. After you've researched the best-quality stocks and ETFs, start purchasing them with the funds you deposited into the brokerage account. For your child, open a UTMA custodial brokerage account. After you deposit money into it, purchase a few stocks and bonds for your child. 
Get a Savings Account for Your Child.
Once you set up an investment account, now you can open a savings account for him.  Each week or two, contribute money to the account, and if your child earns money from babysitting or mowing lawns, have him put some of his earnings in his savings account. This account can be used for emergency savings or possibly funds for his college education.
Pay Down Some Debts
True financial freedom comes when you're debt-free, so use part of your stimulus check to pay debts you owe. Get copies of your credit report and take a look at the smaller debts you owe. Contact your creditors and inquire about establishing a flexible payment plan for your debts.  If you receive unemployment benefits, you can use some of those funds to pay off debts.
Go On a Family Road Trip
Now that you're not in quarantine mode, take advantage of the relaxed restrictions and take your family on a road trip. You don't have to visit a popular touristy city.  Maybe you'll decide to tour smaller towns outside the city you live in. Take plenty of pictures and visit some of the towns' most historically significant landmarks. Instead of going in a restaurant, you can save money by packing your own lunches and snacks.
Increase Your Emergency Funds
Spring and summer are peak times for natural disasters such as severe tornadoes and hurricanes.  If you don't want to go into debt to pay for unexpected emergencies, then it's time to boost your emergency savings. Experts recommend that you save at six=months, but maybe you need more in savings because of your financial situation.
Invest in Yourself
Having better health and improving your career are both important, so you should invest in your overall well-being. If your smile isn't as bright as it used to be, then purchase professional teeth whitening from a trained cosmetic dentist.  If you want to learn a money-making skill, buy a subscription to an online class platform such as Skillshare. By doing these things, you'll have a brighter future ahead.
Get Ahead on Past Due Bills
This is actually the first thing you should do when you receive your stimulus check.  Gather all of your past due bills and knock down as many of them as possible.  Once your bills are current, resolve to stay current on the bills.
These are just a few ways on how you can use a stimulus check and the child tax credit to improve your financial situation.
If you are burdened with high amounts of credit card debt and are struggling to make your payments, or you're just not seeing your balances go down, call Timberline Financial today for a free financial analysis.
Our team of highly skilled professionals will evaluate your current situation to see if you may qualify for one of our debt relief programs. You don't have to struggle with high-interest credit card debt any longer.
Call (855) 250-8329 or get in touch with us by sending a message through our website https://timberlinefinancial.com.