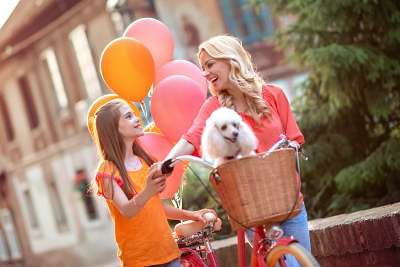 COVID-19 has changed our reality in so many ways. Many of you have suddenly become teachers, as schools closed and your kids became e-learners. Now the kids are home with you all the time. Plus, you are probably like millions of other Americans who are experiencing a reduction in income. This means the old Mother's Day matrix is not going to work this year. You need a budget-friendly Mother's Day for the new reality of the coronavirus.
Here are 7 tips to help you make a budget-friendly Mother's Day without skimping out on all the love and closeness that you have always shared on this special day.
1. Mother's Day Brunch Pivot
Taking Mom out for Mother's Day brunch has been a long-cherished tradition. But chances are restaurants are closed where you live. On the other hand, this gives your kids a chance to prepare an amazing brunch at home. If old enough, they can do it all on their own. For the younger set, you can supervise but give them room to be creative. If you need some ideas, head over to allrecipes.com. The Cheese Blintzes look especially delicious!
2. Create a Home Spa
The Mother's Day trip to the spa is not going to happen during these days of COVID-19. But that does not mean you have to forfeit a relaxing hour in a warm bubbly bath. Or, if the kids are old enough, let them give you a facial, manicure and pedicure. You can buy all the spa ingredients at affordable prices from your local discount stores.
3. Houseplants Instead of Flowers
Flowers are expensive anyway, especially roses. The best deals could always be found at local florists or from the Farmers' Market. But most likely these establishments are closed. Make it a budget-friendly Mother's Day with a houseplant instead. In fact, this is one of those gifts that keep on giving long after the day is over. Dad can take the kids to the local gardening center to pick out a beautiful houseplant that blooms throughout the year. Send one to your Mom too.
4. Scrapbooking
This is a perfect budget-friendly Mother's Day alternative, as a project to work on with your kids or as a gift for you Mother. Since you will not be able to take the kids to visit your mom, sending a scrapbook filled with your favorite photos is sure to be appreciated. You can stay within the borders of your new corona budget as the only supplies involved is the scrapbook itself. If all your photos are digitized, help your kids create a slideshow or video from the photos.
5. Coupons
Coupons are a budget-friendly Mother's Day gift no matter the circumstances. The kids can get inspiration from theidearoom.net, like doing the laundry, an afternoon of quiet time (something you would really enjoy these days) and more. They can download and print out coupons from the site too.
6. Virtual Tea Party
This is not only an affordable way to spend Mother's Day, but it can involve multiple generations. If the kids are old enough, let them decide on a theme, such as a country or historical period. Organize the appropriate teas and have them delivered to all the guests. Get dressed, set the table and Zoom a tea party that includes you, your mother, grandmother and even great-grandmother if possible. Let the kids prepare a short skit or musical performance to accompany tea hour.
7. Enjoy the Outdoors
Getting outside has become one of the biggest treats as lockdowns are slowly eased and everyone is finally allowed to venture out. Pack up the kids and head out to your favorite park or mountain hiking trails. This is not only a budget-friendly Mother's Day gift, but the fresh air will be great for everyone. Be sure to follow all the local distancing and safe walking instructions.
If you are burdened with high amounts of credit card debt and are struggling to make your payments, or you're just not seeing your balances go down, call Timberline Financial today for a free financial analysis.
Our team of highly skilled professionals will evaluate your current situation to see if you may qualify for one of our debt relief programs. You don't have to struggle with high-interest credit card debt any longer.
Call (855) 250-8329 or get in touch with us by sending a message through our website https://timberlinefinancial.com.