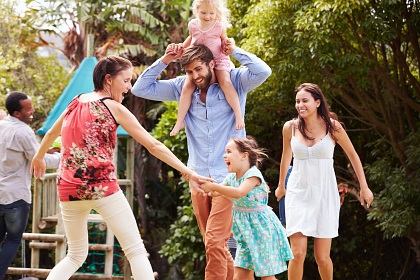 As Labor Day Weekend approaches–September 4th to the 7th this year–so does the unofficial end of summer. As the season comes to a close, many are looking for ways to end it on the right foot. The warm weather will be fading soon, so we might as well take advantage of it before it's over. Besides, everyone's tired of being cooped up indoors. Here are some fun and family-friendly ways to spend Labor Day Weekend outdoors without throwing your budget out the window.
Water Activities
What better way to enjoy the end of summer than by having fun in the sun followed by one last cool down? Try having a family swim or starting a water balloon fight. Maybe break out the slip and slide or sprinkler one last time. Even a dip in a blow-up kiddie pool can be a blast with the right people.
Sports & Exercise
For those who like their outdoor activities to be a bit more active, try hiking or biking. Maybe play baseball, basketball, or another sport you enjoy. Even if you just toss the Frisbee around or go for a walk, it's being active that matters. You could also go all-in with the holiday theme and have a three-legged race or potato sack race instead.
Outdoor Games
If you're not athletic you could always go with less intensive games like lawn-darts, horseshoes, or bean bag toss. Even just bringing regular board games outside can be a great way to spend the day.
Outdoor Dining
Who doesn't love to get together with the whole family for a nice holiday meal? You could have a traditional Labor Day celebration with a family BBQ. Cooking inside and eating outside is always an option as well. Maybe find a nice spot by a lake and pack a picnic lunch or walk to an ice cream shop and walk back with your cones as you look up at the stars.
DIY Crafts
Kids like to be active but sometimes the adults have other things to do or just don't have the energy to keep chasing them around. Times like these call for crafts. Bring out some crayons and coloring books and let them draw or color outside. For something more involved, try buying an unpainted birdhouse and let the kids decorate it or have them party/holiday decorations.
Outdoor Entertainment
For a more laid-back weekend, you could project a movie onto a sheet in your backyard. A karaoke competition or talent show can be fun as well.
Camping
The ultimate outdoor activity is, of course, camping. You don't have to go all the way with it though. You can set up a tent or build a fire in the yard, you can spend the weekend at a campsite, or anything in between. No matter how far you take it, make sure to include some s'mores, ghost stories, and campfire songs to get the full experience.
Final Thoughts
It doesn't matter how you spend Labor Day Weekend, as long as you spend it with the people you care about most. Get together, have a good time, and get creative. You don't have to spend a lot of money to spend quality time together.
If you are burdened with high amounts of credit card debt and are struggling to make your payments, or you're just not seeing your balances go down, call Timberline Financial today for a free financial analysis.
Our team of highly skilled professionals will evaluate your current situation to see if you may qualify for one of our debt relief programs. You don't have to struggle with high-interest credit card debt any longer.
Call (855) 250-8329 or get in touch with us by sending a message through our website https://timberlinefinancial.com.