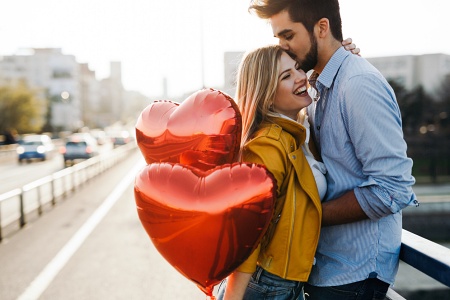 Valentine's Day is coming up fast and spending that special day with your special someone is on everyone's calendar. We all know that gifts are at the heart of the Valentine's experience, from chocolates to jewelry to handmade expressions of love. Some Valentine's are fancy, some are chill depending on the personal style of each couple. But it's always nice to give your partner something meaningful on this special day, even if you're not prepared.
For last-minute Valentines plans (or plans that snuck up on you too fast), you can always throw together a few gifts that are still romantic and meaningful. Here are 7 heartwarming ideas for guys and girls to make that night special without time to plan.
1. Personally Decorated Cookies
Bake or buy a batch of sugar cookies and a tube of red icing. If you feel like going all-out, use white and pink icing as well. Use your own creativity to decorate the cookies with personal messages of sugary-coated affection. Draw hearts, write each other's names and pet-names, or draw inside jokes that will make your lover smile. It's a great substitute for fancy chocolate and shows you really care.
 2. Paper Rose Ring
Want to give jewelry but don't have time to shop or order the perfect piece? Twist a piece of paper into a rose-ring. There are plenty of paper-ring tutorials on the internet and origami has always been uniquely charming. Give your beloved beautiful and potentially adorable paper artwork, even if it's just a paper-twist ring to show your love. Other household materials can also be twisted into fun last-minute jewelry gifts.
 3. Door-Dash a Fancy Dinner
If you have groceries and a fair hand in the kitchen, you can always cook a candle-lit dinner. But you don't have to be a home chef to make the evening nice. There is always restaurant delivery to save the day. Order together to make your evening together complete or show how well you know your lover by pre-ordering their favorites to arrive right as dinner time rolls around. Then light a few candles and you're having a traditional romantic dinner.
 4. Intimate Massage
When all you have is the stuff in your house and the love in your heart, massage is a great Valentine's gift for couples who are already physically intimate or working their way in that direction. Look up a few beginner massage techniques if you don't have preexisting skills and remember to start gently. Be prepared for multiple bouts of massage, as it can be tiring on the hands but very rewarding for the relationship.
5. Hand-Drawn Card or Artwork
If you are artistic, then handmade art can be extremely meaningful for your special someone. Draw them or the two of you as a couple in a piece they could keep or even frame. If you have a shared love of nostalgia, create a paper heart and decorate it with lace and sequins in a traditional Valentine's handmade card. Press flowers to keep and remind your lover of this special day together. Handmade artwork is often deeply moving for those who love artists.
6. Candle-Lit Netflix & Chill
Last but not least, we know that many couples like to relax together most of all. If you have little time to prep but want to make the night special, just clean up the house, light a few candles, and draw the curtains. Then set up the couch as a nest and binge your favorite shows all night. Laugh, snuggle, and spend Valentine's in perfect romantic bliss.
You don't need big spending and weeks (or even days) of prep to make Valentine's special. Give your loved one the gift of a personal night together, with whatever gifts you can design that will show the depth of your affection.
If you are burdened with high amounts of credit card debt and are struggling to make your payments, or you're just not seeing your balances go down, call Timberline Financial today for a free financial analysis.
Our team of highly skilled professionals will evaluate your current situation to see if you may qualify for one of our debt relief programs. You don't have to struggle with high-interest credit card debt any longer.
Call (855) 250-8329 or get in touch with us by sending a message through our website https://timberlinefinancial.com.