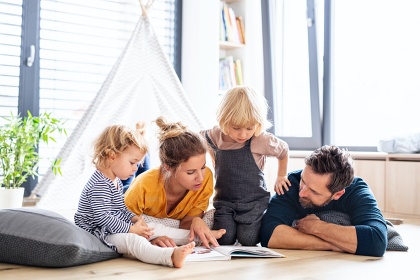 November 14th, 2020 is National Young Readers Day. This holiday, which was founded in 1989 by Pizza Hut and The Center for the Book in the Library of Congress, was created to encourage both children and parents to read together, bond, and share the joy that books can bring. With so many benefits to reading together, National Young Readers Day is a reminder to find creative and fun ways to lose ourselves in a book. Below are some ways you can celebrate National Young Readers Day together.
Little Free Library
Founded in 2009, the Little Free Library was created. You might have heard about it, or even seen one in your neighborhood, but the Little Free Library is a great way to promote the excitement of reading. You may want to make one of your own, or order a kit, or just participate in book sharing, but either way it's easy to add a Little Free Library to any community. The premise is pretty simple: ask neighbors to add new or used books to the little library for others to enjoy. It's also encouraged if you take a book, you share a book, so the library is always filled with new and exciting books for all ages. If you're making a new Little Free Library, it's a great way to bond over books with your child and show the importance of sharing stories that brought them so much happiness. Either way you participate, it's a win-win for both parent and child.
Book It To the Library
We all know that public libraries are a great place to bond over a book with your kids, but especially on National Young Readers Day, it's the perfect place to be. Many libraries hold special readings or story time events to entice young readers, and some may even offer some parent and child classes so everyone can join in on the fun. Also, the best part, it's all free! It's a good idea to look at your local library calendar to see what exciting events they have in store so you can snag a spot.
Get Crafty
Making your own book is fun for readers of all ages. Whether it's a picture book, comic book, book of poems, or even a graphic novel, putting your own book together by hand is a great way to get young minds' moving. Help bring your child's vision to life by assisting them in the creation using construction paper, crayons, markers, or string. Because you're making everything by hand, you'll avoid screen time, while bolstering the benefits of books.
Create a Kid Book Club
Invite some of your child's favorite friends and their parents over for a children-only book club. Have them bring their favorite book and discuss why they couldn't put it down. Hearing others "wow" about their favorite writing encourages kids to explore other books, as well as remind them of the exciting benefits of reading. You don't have to make this a one-time meetup, however, encourage your kiddo to make it monthly or even weekly and you'll be surprised how quickly they whiz through those pages.
Design a Reading Den
Whether you fasten together some sheets, or go all out, kids will have a blast building their own reading nook. Not only will they be proud of what they've accomplished, it will be the perfect place to snuggle up with you and their favorite feature.
These are just some of the ways you can enjoy National Young Readers Day with your child!
If you are burdened with high amounts of credit card debt and are struggling to make your payments, or you're just not seeing your balances go down, call Timberline Financial today for a free financial analysis.
Our team of highly skilled professionals will evaluate your current situation to see if you may qualify for one of our debt relief programs. You don't have to struggle with high-interest credit card debt any longer.
Call (855) 250-8329 or get in touch with us by sending a message through our website https://timberlinefinancial.com.