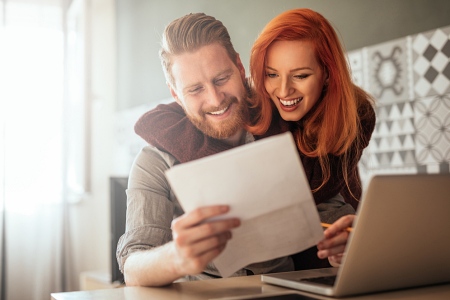 If you and your spouse are newlyweds, one of the best things you can do is build wealth together for future generations. In order to build lasting wealth, you need a strong financial foundation and you can do this by creating a consistent budget. Keep in mind that there will be times when you'll need to compromise in order to budget effectively. Maybe you're the spender while your spouse strongly believes in saving and investing. Suppose you want to budget for home renovations, but your spouse doesn't think renovations are needed now. Your spouse can compromise with you by doing the two most urgent renovations and delaying the less important ones. Here are ways to budget as a couple.
Use Budgeting Apps
Technology has made it easier for couples to budget their finances. For example, the Honeyfi app is designed just for couples. You and your spouse can sync all of your accounts to this app and it will even recommend a household budget amount based on your previous spending habits. The Honeyfi's Goals feature lets the two of you automate your savings to the app, and you can create customized budget categories.
Discuss Your Long Term Financial Goals
Before you sit and create your budget, think about the goals that will motivate you to stick to this budget. Maybe your goal is to retire early and travel often.  Or you and your spouse desire to become millionaires within 10 to 15 years, and you want to start an investment account for each of the kids.  Write down these goals and the steps you need to take to achieve them. As you plan your budget, remember the goals you set and get excited when you get closer to them.
Be Transparent About Your Finances
Financial infidelity can harm your marriage, and this is why you and your spouse should be transparent about your finances. Share information about your current debts, assets, and your careers with each other on a regular basis. If the two of you agree to spend a certain amount of money each month, you should talk to your spouse before making an extravagant purchase. Don't open secret accounts and rack up debt without your spouse's knowledge.
Get Creative About Curbing Your Spending
You and your spouse can look for fun ways to curb your spending. Look for free or low-cost activities in your community since this saves you money on entertainment. Shop for groceries once a month and eat food mainly from your pantry until it gets really low. Consider switching to a cheaper cell phone carrier and get rid of unnecessary subscriptions.
Open a Joint Checking Account
There are several benefits of having a joint checking account as a married couple. A joint checking account simplifies the process of paying bills each month, and it helps you hold each other accountable for how finances are handled in the marriage. The account also makes for easier access to funds when you need them. It also promotes unity for you and your spouse regarding money management.
These strategies are helpful for couples who want to budget effectively for a better financial future.
If you are burdened with high amounts of credit card debt and are struggling to make your payments, or you're just not seeing your balances go down, call Timberline Financial today for a free financial analysis.
Our team of highly skilled professionals will evaluate your current situation to see if you may qualify for one of our debt relief programs. You don't have to struggle with high-interest credit card debt any longer.
Call (855) 250-8329 or get in touch with us by sending a message through our website https://timberlinefinancial.com.