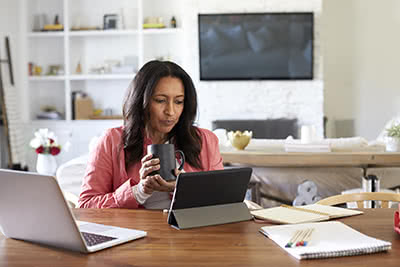 With coronavirus running rampant and social distancing requiring most workers to stay at home, the vast majority of businesses are choosing to move their workers to a remote work environment, allowing (and requiring) them to work from home.
Whether you are a company looking to move your employees to remote work or are an employee being asked to work remotely, there are certain things that people who work from home need in order to be productive and successful.
Equipment
Computer
Remote Work requires a functioning computer, there's no way around it. Some people have their own computer, or the means to purchase one, but a lot of people don't. If you are in a situation where you need to work from home but don't have access to a computer, ask your employer what your options are. Many companies are allowing their workers to bring company computers home to facilitate working from home.
Software
Another important consideration to working from home is what programs you need to do your job. If it is a web-based program, the login information should be available to everyone who needs to use it. If it is a program downloaded onto company computers, it could be wise to consider bringing a company computer home.
Headset
If any calling is included in your job description, you need a headset to make those calls - just a pair of headphones with a built-in microphone will do. This opens up your hands for note taking and cuts down on ambient noise, which makes the customer experience that much better.
Environment
The end goal in setting up a work-from-home office should be to maximize productivity and minimize distractions - similar to the way most offices are set up. A few important factors to create a productive home office:
Workspace
Have a designated workspace. Don't work from your couch, don't work at your kitchen table, don't work from bed. It is tempting to use all of those spaces, but when you set up a space specifically for work, your brain will recognize when it's time for work and when it's time for eating, or relaxing, or watching TV. Plus, you can keep everything you need for work in one spot, lessening your chances of losing something important.
Eliminate Distractions
Turn off the TV and log out of social media. Put your phone on airplane mode if you can, keep it in a different room or in a designated "phone box" until your work day is over. In a usual office, these distractions are usually taken care of for you, but it's your job to self regulate when working remotely.
Accountability
One of the hardest parts about working from home is the loss of productivity and accountability that comes with being in an office with other people. There are lots of ways for you to connect with coworkers and other employees over the internet to increase social time, encourage productivity, and share company information:
Use Slack or Facebook Groups for text-based communications - chats or forums are a great way to get information into everyone's hands and encourage socialization online. For business meetings, you can use video-based platforms like Skype, Zoom, or FaceTime.
If you are burdened with high amounts of credit card debt and are struggling to make your payments, or you're just not seeing your balances go down, call Timberline Financial today for a free financial analysis.
Our team of highly skilled professionals will evaluate your current situation to see if you may qualify for one of our debt relief programs. You don't have to struggle with high-interest credit card debt any longer.
Call (855) 250-8329 or get in touch with us by sending a message through our website https://timberlinefinancial.com.