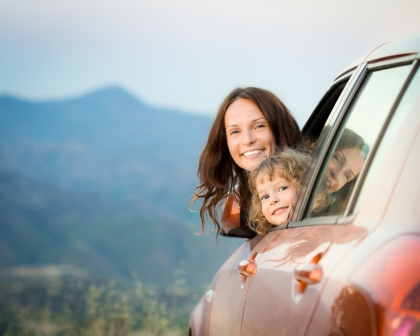 Summer is here, and it won't have to take place mostly at home. With states finally loosening restrictions around COVID-19, and with camps and local pools still closed, many Americans are filled with wanderlust and looking forward to safely traveling in the warmer weather.
Travel agents have forecasted that travel will stay mostly close to home, and that families will elect to have road trips rather than plane flights, staying at Airbnbs or COVID-sanctioned hotels as opposed to big resorts.
With careful attention to social distancing, plenty of hand sanitizer, gloves for gas pumps, disinfecting wipes and sprays, and a few masks in hand, you can make sure that your trip is safe, enjoyable, and memorable one for everyone in your party—and you won't even have to break the bank. Here are 5 affordable and safe vacation ideas during the pandemic.
1. Go tent camping
Want to pitch a tent? Wide, open outdoor spaces can aid you in distancing from others, which makes outdoor camping a great option for many would-be travelers. If you're not into getting down and dirty with traditional camping, glamorous camping with amenities—glamping—might work well for you. Forbes has complied a list of America's best glamping destinations.
Regardless of what style of camping you prefer, make sure to bring cleaning supplies for communal restrooms as well as hand sanitizer.
2. Take a road trip
Driving your car to far-flung destinations is a relatively safe way of traveling during this pandemic, especially when compared to mass transit like trains and airplanes. You may want to consider renting an RV—any long driver could benefit from easily accessible beds, kitchens, and other accommodations. Check Outdoorsy and similar sites for details on how to rent an RV.
3. Stay at a hotel
Many major hotel chains are cautiously preparing to return to business with intensive cleaning policies in place. When looking for a hotel, look for one with easy access to outdoor spaces and conspicuously advertised cleaning measures. If you decide to stay at a hotel, make sure to take the usual precautions—distance yourself from other guests and hotel staff, bring masks, and disinfect frequently used surfaces such as doorknobs, light switches, countertops, remote controls, toilets, and faucets in order to avoid contracting the virus.
4. Book a vacation home rental
Experts who spoke to Business Insider agreed that private vacation homes from services like Airbnb and Vrbo are safer than hotels during coronavirus, because parties can avoid coming into contact with other people during their stay. (Airbnb released a Cleaning Protocol informed by the CDC to help hosts ward off the coronavirus; the guidelines require hosts to wait 24 hours between bookings, in addition to many other safety measures.) On these rental websites, families can search for houses with pools, cribs, and other accommodations in order to meet their needs.
If you plan on renting a vacation home, read the fine print to ensure that you can cancel if someone gets sick prior to the rental, and upon arriving to the house, wash all plates, cups, and cutlery before using them.
Talk to a travel agent for other ideas
With more uncertainty about traveling than ever, talking to a seasoned professional seems like a better idea than ever. Travel agents may have better insights into which hotels have the best COVID policies in place. They may also be able to recommend hotel options you would have not otherwise considered, or give you valuable, specialized advice on planning your trip.
In conclusion
You're going to have to be resourceful and adaptable if you want to travel this summer, especially in comparison to previous years. With different restrictions in place across America and a constantly changing news cycle, there's good reason to stay informed constantly. Having said that, travel is still entirely possible, and the coronavirus won't have to ruin your plans to hit the road. Just pay attention to social distancing and other precautions!
If you are burdened with high amounts of credit card debt and are struggling to make your payments, or you're just not seeing your balances go down, call Timberline Financial today for a free financial analysis.
Our team of highly skilled professionals will evaluate your current situation to see if you may qualify for one of our debt relief programs. You don't have to struggle with high-interest credit card debt any longer.
Call (855) 250-8329 or get in touch with us by sending a message through our website https://timberlinefinancial.com.