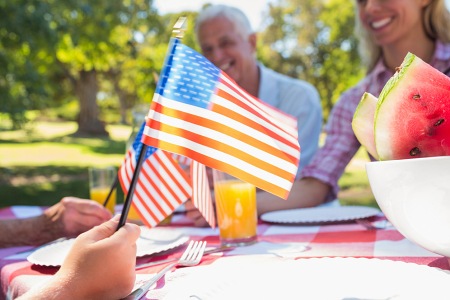 The fourth of July is not only the celebration of when the US gained its independence from England, it is also one of the few summertime holidays. Recent events of the world have left families cautious about attending the usually crowded theme parks. Adding to this is the fact that many people perhaps simply can't afford to celebrate this year as they have in recent years. To keep this uniquely American holiday alive and well this year, here are 5 ways to celebrate the fourth of July on a budget.
1. Turn Your Backyard Into a Movie Theatre
There is something nostalgic about watching movies outdoors. It harkens back to a time when drive-in movies were how families would spend their Saturday nights and spend quality time together. For the cost of a projector and a bed sheet, you can set up your own private screening of a patriotic movie and relax in the comfort of your own backyard.
2. Decorate Your Yard On a Dime
For that little added touch for your outdoor activities, decorate your yard for the cost of a few cups of flour and a paper stencil. Simply trace the shape you want to use. For example, draw a star on a piece of cardboard and cut out the shape. Then wet the area where you want your shape to be on the lawn. And using a fine sieve, lightly dust the area with flour. Make several different shapes to make it extra patriotic.
3. Play a Patriotic Themed Game
Creating a fourth of July themed party game for the kids is a great way to celebrate without breaking the bank. Simply using some paper plates, some balloons, and a popsicle stick make a balloon game for the kids that will keep them entertained for hours. Let the kids color the plates red, white, and blue, glue the popsicles sticks on the plate as a handle, and blow up some red, white, and blue balloons. The person who can keep their balloon in the air the longest wins.
4. Bake Some Patriotic Treats
For the cost of a box of cake mix and some frosting and food coloring, make a red, white, and blue-themed cupcake to celebrate our nation's independence. If you want to really make it extra special, make the cake and use blueberries and strawberries to create a flag in the frosting.
5. Go Hiking
If your family would rather have a more low-key celebration, there are many national parks all over the country to visit and explore. What better way to celebrate America than to take a hike and appreciate what our forefathers fought so hard to protect for us.
The fourth of July is not just about fireworks and cookouts. Celebrating the fourth can be as simple as taking the day to appreciate all that we have as a country and all that we have built as a nation. Patriotism doesn't have to be expensive. The most important thing to celebrate is remembering what our nation stands for and to celebrate the freedoms that we enjoy everyday thanks to a few pioneering individuals who had a dream and made it happen.
If you are burdened with high amounts of credit card debt and are struggling to make your payments, or you're just not seeing your balances go down, call Timberline Financial today for a free financial analysis.
Our team of highly skilled professionals will evaluate your current situation to see if you may qualify for one of our debt relief programs. You don't have to struggle with high-interest credit card debt any longer.
Call (855) 250-8329 or get in touch with us by sending a message through our website https://timberlinefinancial.com.