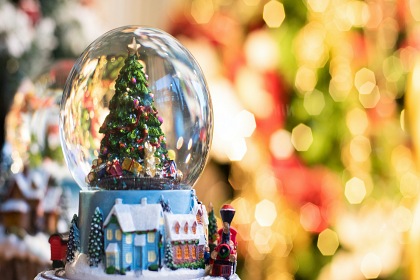 During these difficult and challenging times, if ever there was a time to skip normally accepted Christmas traditions, it's now. However, just because we're not necessarily doing what we've traditionally done in the past doesn't mean we can't have some fun with some less-than regular ways to celebrate the holiday season. In this light, here are at least four out-of-the-box ideas to enjoy the season of giving in different ways.
Looking at Different Ways of Giving
When many people think of Christmas, often the first thing that comes to mind is the very traditional exchanging of gifts. Instead of purchasing a present for a beloved family member, friend, or co-worker, what about other ways of giving instead? For example, consider these alternatives:
Pooling funds or other resources together to donate time or money to support a worthy local or national charity.
Speaking of charity, small businesses and restaurants are really struggling today. When purchasing gift cards, think about buying from these local companies even if it's for yourself.
Instead of buying single gifts, another of giving is to pitch into something everyone will enjoy in the future like taking a vacation or going to a favorite restaurant for a hearty holiday meal.
For another fun and festive idea: What if money was no object? What would you buy for someone you care about? Rather than exchanging affordable gifts, both recipients could offer a photo or story about something extravagant they would purchase. These imaginative options mean the sky is no limit when thinking about the picture of a jet, maybe the map of a private island, perhaps the description of an elaborate mansion or classic automobile.
Looking at Learning About Other Cultures
Just like Christmas, Hanukkah, Kwanza, etc., this wonderful winter holiday season is celebrated in many different ways all over the world. Instead of the traditional characters and decorations we're accustomed to seeing during this time of year, there are other ways we could observe and deck our halls. Rather than Christmas trees, Santa, reindeer, elves, the regular green and red decor, there's more to explore on red-letter dates in December.
There's the Gävle Goat in Sweden, a gigantic yuletide figurine erected annually in the town square with residents traditionally attempting to burn the creation to the ground. Don't forget about Krampus, a fictional Christmas creature that terrorizes naughty children in Austria. Apparently, Kris Kringle isn't the only one who sees little ones when they're sleeping, knows when they're awake and whether they've been bad or good. So as the song goes, you better be good for goodness' sake because someone is coming to town.
Looking at Fast Food Options
While traditional meals and dishes are plentiful during this time of year, in Japan many people in this part of the world choose to dine on Kentucky Fried Chicken. Rather than ham or turkey as the main dish, consider a bucket of KFC as an alternative. There is a special holiday menu available on their website and although it's written in Japanese, the choices still look delicious.
Looking, Hiding, and Seeking
At least one-holiday classic suggests Santa hid presents for children in their stockings that were hung by the fireplace with care in hopes Christmas presents would appear there. In this spirit, how about a good old-fashioned holiday-inspired scavenger hunt. Planners and participants may want to start with hiding a broom, which is a tradition in Norway where some residents believe evil spirits and witches may come to steal these types of cleaning supplies for a ride.
If you are burdened with high amounts of credit card debt and are struggling to make your payments, or you're just not seeing your balances go down, call Timberline Financial today for a free financial analysis.
Our team of highly skilled professionals will evaluate your current situation to see if you may qualify for one of our debt relief programs. You don't have to struggle with high-interest credit card debt any longer.
Call (855) 250-8329 or get in touch with us by sending a message through our website https://timberlinefinancial.com.