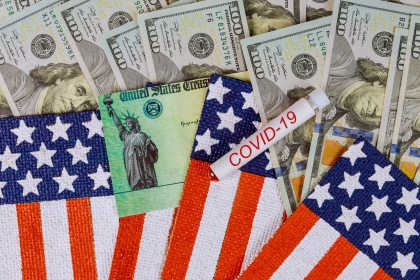 A discussion on the realities of a troubled U.S. economy has opened minds to the idea of another stimulus package. Senate Majority Leader Mitch McConnell (R-KY) is expected to present draft legislation for a second stimulus package this week when the Senate returns from its two-week recess.
House Democrats originally passed the HEROES Act in mid-May which featured a provision for a second stimulus check, but the predominantly Republican Senate never voted on it. Given the bipartisan support required to pass a new stimulus package, the new stimulus will probably include items that are on the wish lists of both Democrats and Republicans. 
What's probably included
No one really knows what will be included in the final package. Having said that, there have been some hints from McConnell and other members of Congress. For one, the income limit may be significantly lower than the previous stimulus check. Sen. McConnell suggested on July 6 that a $40,000 cutoff might be the focus of the plan. "I think the people who have been hit the hardest are people who make about $40,000 a year or less," McConnell said in response to a reporter asking about the second stimulus. "Many of them work in the hospitality industry. So that could well be a part of it." 
However, Speaker of the House Nancy Pelosi (D-CA) expressed doubts about a potential $40,000 salary cap. "I think families making over $40,000 probably need assistance, depending on their situation," said Pelosi in a July 4 press conference.
The amount of money on the check is also unknown. Pundits have predicted that the checks could be anywhere from less than the $1,200 given the in the first stimulus package to President Trump's wish for over $1,200. When a second stimulus check is issued, however, it will not be a recurring payment. 
Senator Rob Portman (R-OH) made a proposal for a $450 a week return-to-work bonus, which could also be part of the package, especially as an alternative to the current $600-a-week unemployment benefits which many Republicans oppose.
It's also likely that state and local aid will be included as part of the package. During these financial hard times, cities and states will face bankruptcy and budget cuts, so it is probable that Congress will grant money to states in order to mitigate the effects of the upcoming recession. McConnell has also made liability protection for businesses, hospitals, and schools a priority for the new stimulus package.
What's probably going to be left out
Provisions without bipartisan support are probably going to be left off from the second stimulus package. These include the payroll tax cut favored by Donald Trump, student loan forgiveness, a new infrastructure plan, and a $4,000 travel bonus. 
When it's going to happen
If Congress can pass legislation by the end of July, and if Trump quickly signs the bill, then it's entirely possible that the payment could go out in late August or early September.
Bottom line
Although the HEROES Act proposed $3 trillion in spending, Senate Republicans are aiming for $1.3 trillion in their new stimulus plan. The final stimulus package could potentially be between $1.5 and $2.0 trillion.
If you are burdened with high amounts of credit card debt and are struggling to make your payments, or you're just not seeing your balances go down, call Timberline Financial today for a free financial analysis.
Our team of highly skilled professionals will evaluate your current situation to see if you may qualify for one of our debt relief programs. You don't have to struggle with high-interest credit card debt any longer.
Call (855) 250-8329 or get in touch with us by sending a message through our website https://timberlinefinancial.com.