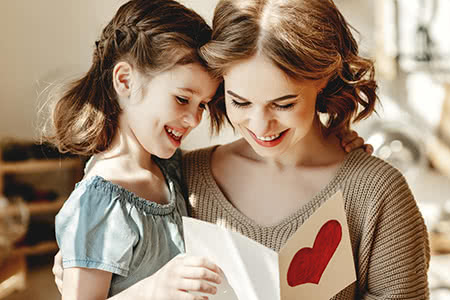 Showing your mother how much you appreciate her is a tough task. After all, how can one day or one gift express gratitude for a lifetime of love, compassion, and support? Mother's Day is a worthy attempt, but it takes a thoughtful approach to show an authentic appreciation for motherhood. Here are a few unique ways to spend Mother's Day that will show your mother that you love her to the moon and back.
Have a Tea Party: Mother's Day tea is a longstanding tradition, but it doesn't have to a formal event. You can show your mom how much you love her within the comfort of her own home by throwing a tea party. This may be the two of you sitting in the kitchen nook over a couple cups of oolong, or it could be with the grandkids over a variety of non-caffeinated herbals. Either way, your mother will appreciate the dedicated conversation while sipping on a relaxing beverage.
Play Puzzle: If you ask many mothers, the biggest wish they have is more time spent with their family. That is why jigsaw puzzles are the perfect gift. Hours huddled over puzzle pieces bring the gift of gab to the table, and there are digital options if your gift must be remote.
Build a Garden in a Bottle: Build a terrarium or a self-sustaining ecosystem in a bottle on Mother's Day, and your mom will have a living and breathing representation of your love for her. It's a fun activity that lasts far beyond the holiday.
Make Sandwiches: Keeping it simple is often the best gift a mother can get, and there's nothing simpler than making sandwiches and eating lunch. Your mom will enjoy spending time in the kitchen with you without the added burden of cooking or serving a complicated meal.
Visit a Local Museum: Tourists visit museums, and it is often the locals who are least informed about their region's history. You can change that on Mother's Day and open your mother's eyes to a new side of the area where she lives.
Old-Fashioned Picnic: If the weather is nice, Mother's Day should be spent outside. Grab a basket and a blanket and go have a picnic in the park or favorite outdoor space.
Live Music: Special events are accompanied by music, but Mother's Day is not known for its musicality. That can change if you hire a local musician or attend a local concert to add melody and harmony to the day.
Do Some Chores: Doing the dishes or completing some tasks on your mom's to-do list will gain you more favor than you think. She'll relax knowing things are getting done while her feet are up.
Take a Hike: Again, outdoor activities are awesome choices for fair-weathered Mother's Days, so get out on the trail and see the sights.
Photo Shoot: Your mom probably has at least one decade-old photo hanging on her wall that she wishes she could update. Family pictures don't end once you leave the house, so take the opportunity to make family photos happen on Mother's Day.
Cook a New Dish: One of the many advantages of the internet is online education, and you can learn to cook from the masters on multiple YouTube channels. Why not start with your mom?
Watch an Old Movie: Yes, you can sit through Casablanca, Pretty Woman, or Dirty Dancing one more time with one of your best movie partners.
Go Bird Watching: Like hiking, bird watching is a great way to spend time with your mom in the outdoors. Don't forget your bird identification book, so you can learn a little on the way.
Make Spring Decor: Making floral arrangements, wreaths, or other spring/summer decor is a great way to spend time, have conversation, and end up with a something nice to look at. Crafting is something many people enjoy but don't make time to do.
Take Kids to the Park: Last but not least, take your kids (or a pet) to the park. Your mom will enjoy the time outdoors with you or the grandkids, and the park is typically a respite from the hustle of everyday life.
Spend Mother's Day with Intention
The reason you should find a unique way to spend Mother's Day with your mom is to show her your intention of appreciation. Flowers and candy are nice gestures but adding some unique effort to your mother's special day will show her how much she matters in your life.
If you are burdened with high amounts of credit card debt and are struggling to make your payments, or you're just not seeing your balances go down, call Timberline Financial today for a free financial analysis.
Our team of highly skilled professionals will evaluate your current situation to see if you may qualify for one of our debt relief programs. You don't have to struggle with high-interest credit card debt any longer.
Call (855) 250-8329 or get in touch with us by sending a message through our website https://timberlinefinancial.com.