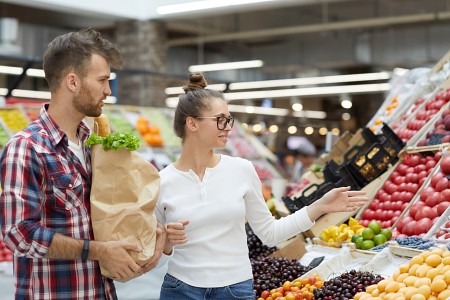 Groceries are an expense that we really don't get to "cut out" of our budget. However, with hectic schedules and multiple mouths to feed, many of us fall into a mindless routine when it comes to shopping for food. Luckily, we've got ten tips that could help you save money every time you visit the supermarket.
Switch Grocery Stores
It might be convenient to shop for groceries at the closest store-- but is it the most cost-efficient? Aldi, Trader Joe's, and Wal-Mart are just a few budget-friendly grocery stores that you may want to consider. If a new store is out of the question, consider buying store-brand products rather than higher-end, brand-named ones.
Shop Prepared
Look in your refrigerator and pantry before your next trip. Often, we shrug our shoulders and throw items in the cart simply because we forgot to check to see if we already have them. Before we know it, we have five different cumin seasonings-- and the cost adds up! 
Get Resourceful
Dedicate a couple days a month to make dinner with what you already have, rather running to the store. A simple search on the internet will provide you with an abundance of meal ideas with five ingredients or less.
Start Freezing Meals
More times than not, we end up throwing out perfectly good leftovers. Soups, lasagnas, even desserts all freeze well. If you need more easy freezable ideas, check these recipes out.
Start a Garden
Lettuce, green beans, tomatoes, and strawberries (to name a few) are all easy foods to grow right in your own backyard. Not to mention, it's a fantastic hobby to take up.
Pay with Cash
Paying with cash will help you stick to your budget and prioritize what you really need. If you take cash to the grocery store, you know exactly how much you can spend.
Use a Rebate App
If you use a rebate app, you will have to be mindful of purchasing things you need versus purchasing something simply because it's discounted. Ibotta and Fetch Rewards are good cash-back apps that are worth checking out if you stick to necessities.
Eat Before you Shop
There's no denying that when you are hungry and grocery shopping, all the foods you are craving are what you end up putting in your cart. This will allow for a more practical budget and healthier buying.
Don't Buy Bottled Water
If you gravitate towards purchasing bottled water for your entire family, you will save quite a lot if you stop. Invest in reusable bottles that you can fill with tap water and put in the fridge for later.
Cook from Scratch
A few ingredients can go a long way. Make your own desserts instead of splurging on the fancy ones. When it comes to salad dressings, sauces, and soups, it's not only a more cost-efficient way of eating, but it's also healthier.
Pull up your bank account and jot down how much you've spent the past few grocery runs before your budget makeover. It will be beneficial to see just how much you save using these tips and gauge whether you should do even more cost-cutting.
If you are burdened with high amounts of credit card debt and are struggling to make your payments, or you're just not seeing your balances go down, call Timberline Financial today for a free financial analysis.
Our team of highly skilled professionals will evaluate your current situation to see if you may qualify for one of our debt relief programs. You don't have to struggle with high-interest credit card debt any longer.
Call (855) 250-8329 or get in touch with us by sending a message through our website https://timberlinefinancial.com.